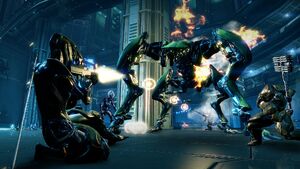 Free to play, MMORPG, third person shooter.
Kevin Beyea's username: seriousbaker
Kinda like a free to play Borderlands. Many different playstyles allowed.
F2P but, all items can be obtainable through gameplay, the money maker was on the amount of time it took to make things once you farmed all the materials and rl money was the only way to speed up the process. New warframes (classes) took 4 and a half days to make after you farm all the mats.
Date of First Play
Edit
4/1/2014